We did it! The wedding is long past, but we feel like it happened yesterday.  We planned for an outdoor ceremony at Greys Lake on the terrace overlooking the lake. The week before we started to check weather forecasts constantly – because it was slighted to rain on our wedding day!! We had not thought of a back up plan (smart right?) so we scrambled and tried to throw some things together last minute. We contemplated buying 80 white umbrellas and having people stand out in the rain – or spending far too much money for a tent, that the City of Des Moines would not allow us to put over the terrace so we would have had to stand in the wet grass/mud….
But we were lucky, and although it did rain on the morning of our wedding, the weather was on our side and the day was lovely. It was sunny and warm!
I will never forget riding with Rene in that limo on our way to the reception. Those few moments hold a joy and excitement that will be hard to top. It was an amazing day, I couldn't have done it without my family. They were truly lifesavers. My aunts and cousins did all of my flowers (they are rockstars), decorated the terrace/chairs at the ceremony with flowers, and set up the tables for the reception. So I all did on the day of my wedding was coordinate with them and then I was able to relax and get ready with my bridesmaids and brother! I am so lucky to have them!
The following Monday bright and early (4am was too early!) we headed for Charleston South Carolina. We had an AMAZING time!! We planned to do some exploring, and we were staying a night on the beach and needed a way to get out there, so we decided to rent a car while we were there. They upgraded us because it was our honeymoon, and we were off! Unfortunately not 5 minutes after picking up the car we were rear ended!! Luckily the person who hit us admitted fault and told the police officer that he didn't see us at all and that he had in fact hit us. After that we made our way to downtown Charleston. Rene had found a lovely hotel that is called the Vendue Range.
Some brief history of the Vendue Range, as seen on their website:
Made up of several warehouse buildings dating back to the 1780s, great care has been taken throughout the years to preserve the historical character of The Vendue.
1785
The name, 'The Vendue', comes from the vendue masters (or auctioneers) who worked in the area. French merchants utilized The Vendue, originally known as Prioleau's Wharf, to conduct trade. Prioleau's Wharf quickly became a favorite, until the trade business halted at the onset of the Civil War.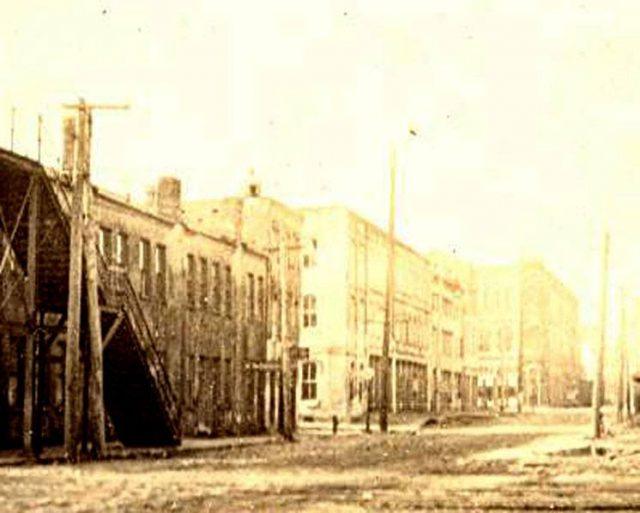 1865
During the Civil War, Prioleau's Wharf became a warehouse for blockade-runners. After the war, the building evolved into a warehouse for the fishing industry, and weary sailors looking for a place to stay encouraged the warehouse to add its first accommodations.
1872
Rebuilt in 1872 by Ms. Ann Ross, 19 Vendue's granite post and lintel system from 1839 was preserved. In addition, several of the rooms in 26 Vendue still feature historical components of the original warehouses, such as exposed wood beams and original Charleston brick.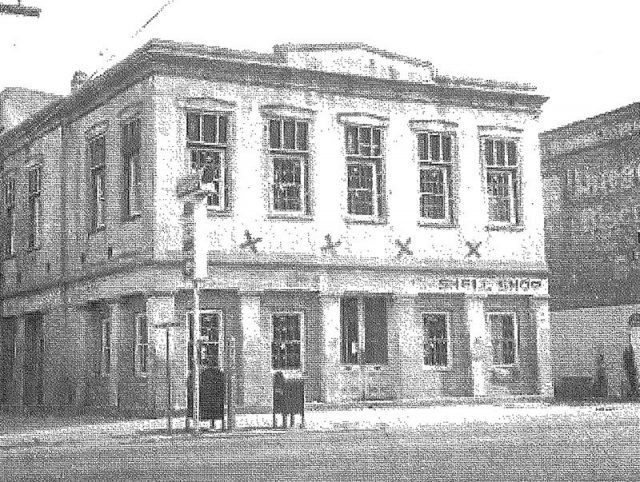 1973
The property lies within Charleston's historic French Quarter Art District. Most of the buildings in the French Quarter were listed in the National Register of Historic Places prior to 1973 when a collection of mostly 19th century warehouses were saved from demolition by the "Save Charleston Foundation," a group of local citizens who conducted a national campaign to raise money for that specific purpose.  The irreplaceable warehouses on Queen Street, State Street and Lodge Alley were then conveyed to developers who rehabilitated the properties into valuable commercial businesses.
2012
Avocet Hospitality acquired The Vendue Inn (19 & 24 Vendue).
2013
Avocet Hospitality acquired The Anchorage Inn at 26 Vendue, later to be restructured and combined with 24 Vendue. The Vendue Inn closed its doors on November 11th, 2013 to begin a $5.5 million renovation.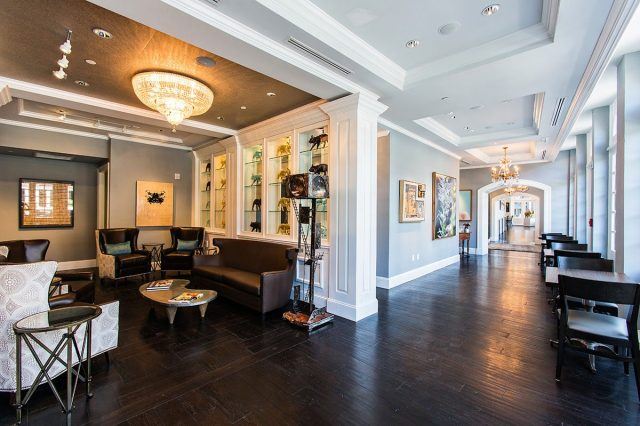 Now
19 and 26 Vendue re-opened in 2014 as "The Vendue," Charleston's first boutique hotel dedicated to the arts, in all forms. The Vendue still carries the charm and structure of the original properties.
————————————————————————————————————————————
We were within walking distance to so many things! The only downside to the week that we were there, was that it was slightly cold and raining for most of the week. But we had a car, and excitement that couldn't be stopped! The first morning we took a historic bus tour of the city and saw some beautiful architecture. We walked around the open markets for an hour or two and then went to get ready for dinner. We had made dinner reservations for ever night that we were there except for Monday. We ate at The Grocery, The Ordinary, Husk, and The Peninsula Grill. The food was amazing!!! I have to say that Husk was my favorite. But the Peninsula Grill was not far behind, and also held a surprise for us. Lesley, Rene's sister, had called ahead and had bought us a Peninsula Grill cookbook! There was a card and the cookbook waiting for us when we arrived. A very special and thoughtful gift. We walked around the city, we went to Magnolia Gardens – a fascinating plantation outside of the city, took a ferry out to Fort Sumter, went to the Aquarium,  I had a whole day at the spa too! It was like a dream. It was perfect. Rene and I both were sad to come home!
One really nice thing was that every day you got a $50 credit at either the restaurant in the hotel, their rooftop bar, or the starbucks that is connected to it! Rene found that deal, which is given to those who don't use Expedia/Orbitz/Travel.com/etc and book straight with the hotel.
Then on Saturday we checked out of the Vendue and made our way out of downtown Charleston and headed to Folly Beach. Rene had found a beachfront hotel!! Our view was of the ocean, and we woke up to the sound of waves. We spent the majority of our time at Folly Beach on the beach! But we did walk around a bit, we ate at two great restaurant, and then drove around and explored before we headed to the airport.
2014 was beyond amazing. It was a dream. I'll never forget any of it. Here's to a happy 2015!